Oloroso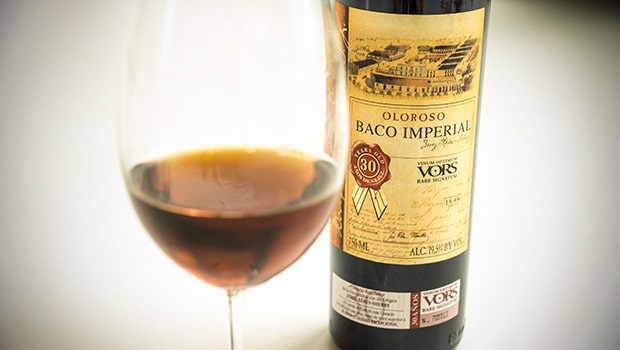 Published on November 11th, 2013 | by Ruben
0
Oloroso Baco Imperial VORS (Dios Baco)
Dry sherries are Dios Baco's primary focus, even though they also have medium sherry
Baco Imperial is the VOS / VORS range of Bodegas Dios Baco. The V.O.R.S. label stands for Vinum Optimum Rare Signatum. Only wines with an average age of 30 years or more gets this label, after a thorough assessment by the Consejo Regulador.
The Oloroso Baco Imperial comes from antique soleras, dating back to the 1960's – 1970's. It is available in very limited quantities and it received 91 points in Robert Parker's Wine Advocate Magazine.
Oloroso VORS Baco Imperial (19,5%, Dios Baco 2013, 75 cl)
Nose: very aromatic and rich. There's a sweet side (dates, molasses, caramel and chocolate), a nutty side (walnut oil and toasted almonds) as well as a deep smoky side (freshly roasted coffee, toasted oak). Lovely notes of leather and tobacco. Subtle hints of waxed furniture too. A lovely complex nose, with a striking balance of sweet and dry aromas.
Mouth: medium bodied, a little more towards the dry side now, with clear oak influence. Quite nutty with pronounced salty, coastal undertones. Balanced citrus acidity. Faint notes of dried fruits in the background. Brazil nuts, hints of coffee again, with some walnut skin bitterness towards the end. Long, slightly sharp finish.
Availability: rare outside of Spain. Around € 80. In Europe, you may want to check Grau Online.
Summary: This is a wonderfully old, very aromatic and meditational wine. Especially the nose is heavenly - it gets a little sharper towards the finish.