Manzanilla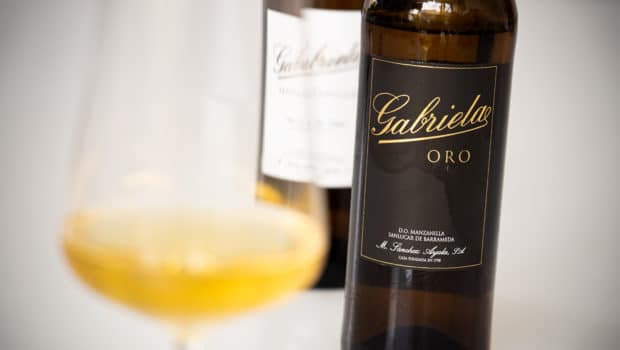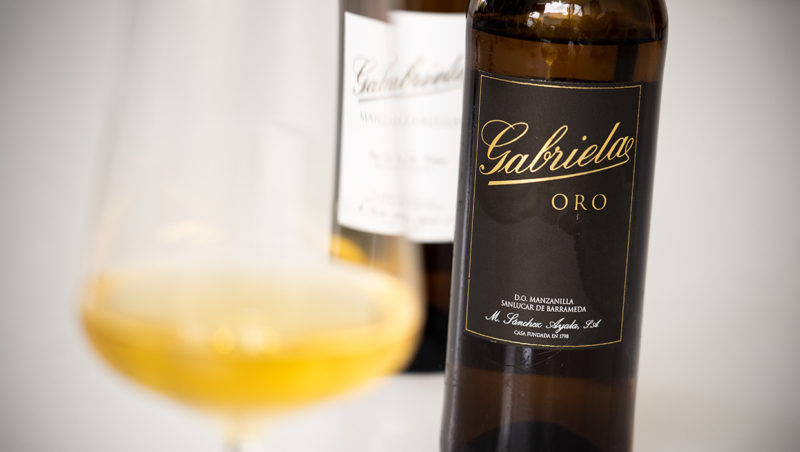 Published on July 8th, 2019 | by Ruben
0
Manzanilla Gabriela Oro (Sánchez Ayala)
Oro is a premium version of the classic Manzanilla Gabriela
Manzanilla Gabriela Oro (black label) is the premium version of the regular Manzanilla Gabriela. A selection of the best barrels of the solera is allowed to age in two extra criaderas before being bottled en rama, with minimal filtration and no fining.
For more information on the production and the vineyard responsible for the Gabriela wines, see my Manzanilla Gabriela review.
Gabriela Oro only has 2 sacas per year, and the average age will be around 7 years. The biggest difference between the two versions is not so much the higher age, but the barrel selection, focusing on the flor character. In the case of Gabriela the predominant strain is Montuliensis, leading to a higher level of acetaldehydes and a more punzante character. The Gabriela Oro has a slightly more intense colour but the difference is not very big.
Manzanilla Gabriela Oro 'En Rama' (15%, Sánchez Ayala, L18)
Nose: a deeper style, with more scrubland, hay and dried herbs. Slightly farmy (stables). Olive brine. Also a more pronounced hint of overripe yellow apples. It is certainly more pasada than the white label Gabriela, with more autolysis, but there's the same feeling of elegance and sophistication. Really nice.
Mouth: again this really silky house style. All on flor and briney notes, hints of seaweed and iodine, but in a slightly buttery way. Then plenty of nutty notes (mainly walnuts and almonds) growing more pungent towards the finish. Very expressive but it stays smooth and elegant at all times.
Availability: quite a limited distribution outside of the sherry region (outside of Sanlúcar even). I found mine at ad Bibendum for around € 22.
Summary: A great Manzanilla again, not entirely Pasada but still a more intense selection from the solera Gabriela. Deep flavours but always in the sophisticated style of the house.