Fino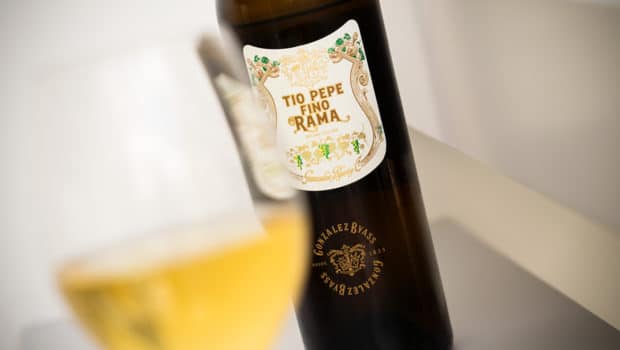 Published on May 14th, 2019 | by Ruben
0
Tio Pepe En Rama 2019 (González Byass)
Released once a year and now in its tenth edition, Tio Pepe En Rama is a classic when it comes to unfiltered Fino sherry.
For 2019 it comes from a selection of 62 casks (from a total of around 20,000 barrels in their bodegas), chosen for their intense notes of flor yeast. This release has been given the hashtag #GenteEnRama (En Rama people).
Like previous years, its label is inspired by old bottles from González Byass' archives. This year, winemaker Antonio Flores worked with his daughter Silvia Flores to make the selection. She is learning from his broad experience  – this is probably the next generation being prepared.
By the way, it looks a bit more cloudy than previous years, always a good sign.
Tio Pepe En Rama (15%, González Byass)
Nose: a brooding mix of warm, dusty and humid notes (haybales, cellars and old attics, wet wool, old wood) as well as dried fruits (almonds, hazelnuts). Smaller hints of tapenade and seaweed. A pebble beach in the sun. Rising bread dough and bruised apples. Rather complex but highly attractive. Always on the warmer side, like a true Fino de Jerez.
Mouth: dry and very sapid, with an indisputable saline touch and a bracing acidity that cuts down the yeasty weight a little. Lemon peel. Salted almonds. Apples and aldehydes. Chalky notes. Roasted nuts. Perhaps a bit more on the vertical side now, with a refreshing mineral bitterness. The aftertaste is long and salty while bringing back some of that dusty, yeasty power of the nose.
Availability: pretty good with distribution to around 20 countries, although it may not have arrived in some markets yet. Around € 15-17 in Spain, closer to € 20 in other countries, available from Bodeboca or Master of Malt for instance.
Summary: Drinking Tio Pepe En Rama is being grabbed by the power of yeast and this is yet another great year to discover it. An intense, complex and rewarding Fino. Always reliable, just a great wine.