Cream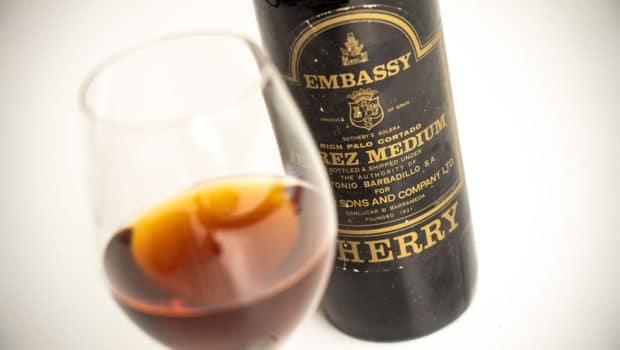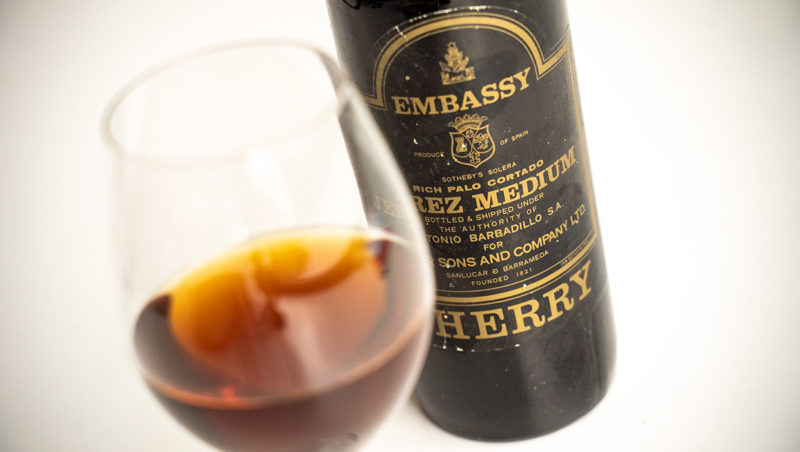 Published on April 18th, 2019 | by Ruben
0
Embassy Palo Cortado Medium (Barbadillo)
Embassy is a brand of Antonio Barbadillo. If you Google the name, you'll also find other labels that mention the Embassy Wines and Food Company, a legal entity that is still operational in Spain and that appears to have had a branch in Holland as well. The address is still the same as the current-day Manzanilla museum and Barbadillo shop in the barrio alto of Sanlúcar.
The 1970s were very succesful times for Jerez and Sanlúcar so the Embassy range included a lot of different styles. Mind the generous use of terms like Very Old and Rare, Royal, Solera la Sacristía etc. There's also the name Kingsgold and Sotheby's Solera. Add to this the black and gold labels, the crown and coat of arms: they really wanted to give this a prestigious look.
On another label of a Manzanilla Pasada I found Potters Sotheby's sherry is drawn from the famous soleras known as Solear located in the Bodega El Potro. Bottled at 18 to 20% (!) according to the label, this must have been very interesting.
'Embassy' Jerez Medium – Palo Cortado (18%, Antonio Barbadillo, bottled 1973)
Nose: actually much better than expected. It's rich with some sweetness, but there's plenty of dried fruits, raisins, toasted hazelnuts and a pinch of pepper. Hints of almonds and honey. A little maple syrup. Perhaps closer to an an Oloroso Dulce but behind the PX is a certain lean side that works quite well.
Mouth: still fairly deep and nutty, with a balanced sweetness and a savoury, earthy side. Medium indeed, it's not cloying. Moves towards chocolate notes, a little coffee and maple syrup again. Light woody notes. Mid-palate it is a bit flatter than I hoped, but it ends with some nice spices in the finish. Overall it reminds me a bit of the Tres Cortados Medium Dry from Valdespino, a similar wine still on the market.
Availability: long gone. Hardly ever seen in auctions, this was bought to drink and not to set aside in a cellar.
Summary: This sweetened Palo Cortado was still in good shape and although I'm not a big fan of the genre, the roundness still leaves some room for the original wine. In any case fans of Medium sherry should not automatically pour away bottles from the 1970s.