Books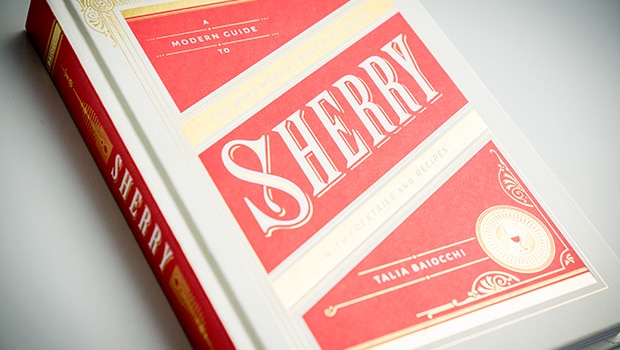 Published on October 16th, 2014 | by Ruben
3
Sherry: A Modern Guide to the Wine World's Best-Kept Secret (Talia Baiocchi)
Talia Baiocchi is the editor-in-chief of PUNCH, an online magazine focused on wine, spirits and cocktails. She has also written for Wine Spectator, Decanter and Wine & Spirits, among others. She's located in New York, one of the key places of the current sherry revival, and she happens to be very interested in sherry, so she decided to write a book about it: Sherry, a modern guide to the wine world's best-kept secret. It's the first important book about sherry since Sherry, Manzanilla & Montilla was published in 2012.
One thing that immediately got my attention in this book is the photography, courtesy of Ed Anderson. If the book won't make you drink more sherry, it will certainly get you interested in the beautiful part of Spain that is Andalucia. This is missing in most of the other books on sherry – it makes you want to pick it up from the table again and just flick through the pages and enjoy the views, or ultimately wanting to see them in real life. Well done –  even though most of the images were clearly made on particularly gray, cloudy days.
Onto the text then. Sherry has seven chapters. The first four are about sherry production, the styles of sherry, the evolution of sherry through the ages and the current Renaissance of the wines. Chapter 5 is an overview of the towns of the area and the sherry producers. While part of this could serve as a tourist's guide, it can also be used as a shopping list for people heading to their wine merchant. Chapter 6, the largest one, is about sherry-based cocktails and features classic recipes like the Tuxedo and Sherry Cobbler, as well as modern creations by top bartenders. While I don't really think of sherry as my favourite ingredient for cocktails, it's an interesting subject and a very popular one to say the least. The last chapter is 'Sherry at the table' and presents a handful of recipes for tapas that go well with a glass of sherry. There's also a short appendix of addresses that sell or serve sherry, but this is only useful if you're living in the US.
Baiocchi is looking at sherry from a very wide (young) angle and noticed that none of the major wine writers deal with cocktails
The book contains more information than a normal enthusiast or sommelier would need to spark an interest, but it's never technical (and never complete) – you'll find more in-depth elaborations in other books. Nonetheless it's a concise book and all the essential subjects are covered. Most of all, it's easy to read and captivating, with some witty personal notes and fun experiences of the author. You can tell it's written by a young writer and I'm sure her obvious enthusiasm will be transferred to the reader.
I'm always interested to read what other people think of certain wines, and I was surprised (not to say disappointed) to see the list of bodegas is not complete and the wines are listed in a disorganized way that makes it hard to scan. There's a rough price indication, but too little explanation in my opinion to really know which ones could fit your taste, with hardly any flavour profiles or personal appreciations from the author. None of them are pictured either, too bad. It's more of a reading chapter than a practical overview after all.
On the other hand each cocktail gets an introduction, some background information and a full page image. In total around 40% of the book is about cocktails. It shows that Baiocchi is looking at sherry from a very wide (young) angle and noticed that none of the major wine writers deal with sherry cocktails. This specific part is the unique asset of this book – it is by far the most elaborated. I'm afraid it's also the part that didn't interest me much – it all depends where your focus is.
Sherry, A Modern Guide to the Wine World's Best-Kept Secret isn't meant as a one-stop Bible of sherry knowledge, but it's an honest and beautiful book that stresses the versatility of the wines. It reads like the diary of a sherry journey and the author invites you to discover some of her favourite wines along her own path.
$25 / € 26
Hardcover: 272 pages
Publisher: Ten Speed Press (October 14, 2014)
ISBN: 978-1607745815
Also available as an ebook for Kindle and Apple readers
Summary: Sherry: A Modern Guide... is an enjoyable, stylish book that's fun to read. I'd recommend it, especially if you have a particular intrest in cocktails or if you're looking for an easy guide. A special mention for the refreshing visual aspect of the book.