Manzanilla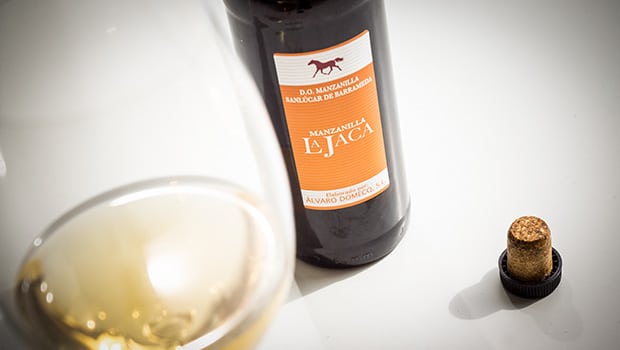 Published on April 3rd, 2014 | by Ruben
1
La Jaca (Álvaro Domecq)
Manzanilla La Jaca is rather young: around four years old
La Jaca is not one of the famous brands of Manzanilla and finding it outside of the sherry area can be difficult. When Álvaro Domecq (part of the influential Domecq family) started his own bodega in 1999, he took a head start by acquiring stocks from Pilar Aranda, an old almacenista.
However this Manzanilla was not part of these stocks, so its origins remain unclear. The brand itself traces back to the almacenista Manuel Guerrero (who was also involved in breeding the famous Andalusian horses, and stopped selling wine in 1977), but it's uncertain where Domecq now buys the wine.
Manzanilla La Jaca (15%, Álvaro Domecq)
Nose: a light, gentle nose, slightly muted even. There's a hint of flor and hay but the fruity aromas are bigger. Apples and light hints of apricot. Sweet almonds. Really mellow.
Mouth: starts in full fruity mode again, more like a regular white wine than like a true Manzanilla. Very rounded. Mid-palate it becomes drier, more typical and assertive, with some "punzante" notes and a gentle herbal bitterness and lots of salty notes. But too late to win me over completely. Medium finish.
Availability: you'll probably find a distributor in your country, but it's not widely available. I paid around € 9 for a full bottle, that's very reasonable.
Summary: La Jaca is a polished, round Manzanilla with lots of almond aromas and a hint of fruity sweetness in the background. Quite young, easy-going and a good match for food, not only the classic seafood combination.