Manzanilla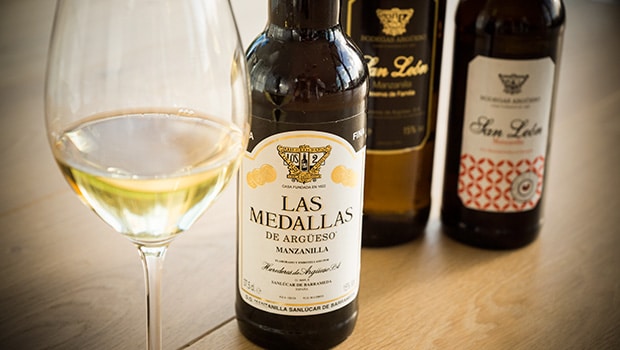 Published on December 6th, 2013 | by Ruben
0
Las Medallas (Argüeso)
From four Manzanillas produced by Argüeso, Las Medallas is among the younger ones
Las Medallas is the youngest of the widely available Manzanillas from Bodegas Argüeso. While their website says it's the same age as the better known Manzanilla San León, it is believed to be quite a bit younger. The colour would confirm this: it's much paler than San León. Given the differences in character, it would be difficult to assume they are equally old.
Argüeso is a bodega focusing on Manzanilla in different stages of maturation. They have no less than four different expressions, ranging between four and nine years old.
Las Medallas Manzanilla (15%, Bodegas Argüeso)
Nose: light and fresh. Very fruity, with orange blossom and hints of berries. Some estery notes, as well as some 'green' notes (celery). Very light flor notes, some chamomile and hints of oysters. Pleasant, but in some respects it's closer to a regular white wine than to most Manzanillas.
Mouth: again bright and clean. Juicy fruits like melons and quinces. Light body, a bit 'winey' still. Not very coastal, just a light salinity and a gentle zesty note towards the finish.   
Availability: there's probably a few wine shops in your country that carry Argüeso's range. Around € 10-15 for a full bottle. There's also a 37,5 cl version for around € 7. Check Master of Malt for instance for international shipping.
Summary: A young, round and fruity Manzanilla that's extremely easy to drink. I can imagine this to work very well with food, but the other Manzanillas from Argüeso are more typical and more pronounced.