Vino de Pasto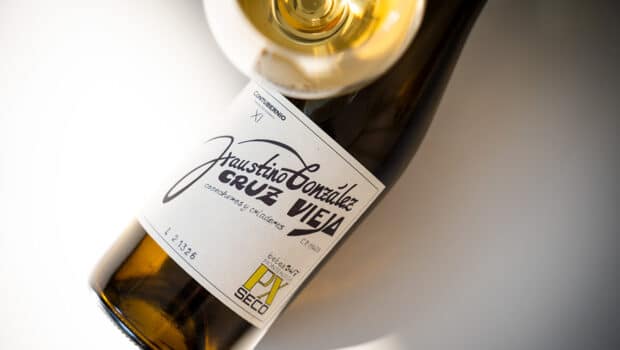 Published on March 7th, 2022 | by Ruben
0
Cruz Vieja PX Seco 2017 (Contubernio)
This PX Seco 2017 (a dry, unfortified vinification of Pedro Ximénez) was produced by Faustino González, an artisan bodega founded in 1972. The founder acquired the soleras from the Alcázar in Jerez, dating back to 1789. He transferred them to the old cellar of his wife, Doña Carmen García-Mier, in the historic Barrio de San Miguel in Jerez. Since then the wines have the name Cruz Vieja.
The grapes from the 2017 harvest came from viña El Carmen, their 7 ha vineyard in the pago Montealegre. This pago to the southeast of Jerez is located at an altitude of 50 meters on albariza parda soil. It is perhaps not the best known area in the sherry region, but nonetheless part of the Jerez Superior zone.
The wine was fermented in sherry butts in a natural way, without adding yeast. All work is done by hand, in the traditional way. It aged for 4 years in the same butts, on the lees and under a layer of flor yeast.
The bodega is selling a younger version of this wine (6 months on the lees, 12,5° alcohol) but this is a special bottling was part of Club Contubernio edition n°11. It is a selection of two butts from a series of seven in total.
Cruz Vieja – Montealegre PX Seco 2017 – Botas 2+4/7 (14,5%, Faustino González 2021, Edición Contubernio 11, 1200 btl.)
Nose: a very biological onset, with sheep stables, hints of broth, warm beach sand, seashells and plenty of minerals. Really wide, rather warming. Behind these coastal notes there is a hint of nuts and dried fruits, as well as echoes of dehydrated fruit. The opulence of the biological markers is really beautiful.
Mouth: fresh and wide. Bruised apples and dried pear, showing a nice acidity and a bittersweet note. Then the salinity sets in, adding some nervousness, alongside vegetal notes, straw and intense flor. There's a light hint of apricot richness, hidden in the background but nonetheless a good sign of the Pedro Ximénez grape. It has a bit more roundness and body, with a little less of the herbal Palomino character. Long mineral finish, still showing a nice acidity and freshness.
Availability: only for Club Contubernio members. They are now also selling single bottles for around € 30.
Summary: The flor influence, higher age and concentration bring this unfortified wine close to a Fino sherry. It shows all the great biological markers albeit with the specific characteristics of the PX grapes. An intense wine full of contrasts, in a lovely way.