Manzanilla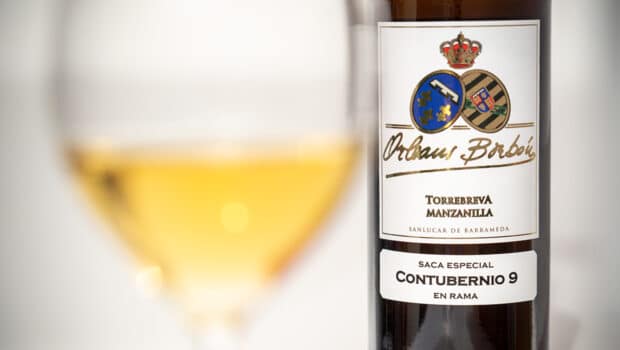 Published on August 24th, 2021 | by Ruben
0
Manzanilla Torrebreva – Edición Contubernio (Orleans Borbón)
Orleans y Borbón is a small-scale project with a royal heritage, housed in a beautiful palace in Sanlúcar
Despite its royal heritage, the bodega Los Infantes Orleans Borbón is a little-known producer in Sanlúcar. The name refers to Antoine d'Orléans, the Duke of Montpensier and son of the French king Louis-Philippe, who fell in love with Sanlúcar during an expedition in 1849. He decided to stay and build a summer palace at the border of the Barrio Bajo, where the streets start going up towards the Barrio Alto.
Now what the Duke didn't know, is that the humidity in this location is so high that the water comes running down the walls. Not the best place to live, but perfect for growing mushrooms… or ageing Manzanilla! In fact the former stables of the palace (beautiful buildings with Arabic influence) became useless around the 1940s and ended up as a bodega.
Bodegas Orleans Borbón
The current ownership traces back to Álvaro de Orleans, a descendant of the Duke and a nephew of the Spanish king emeritus Juan Carlos. The wines have always been sold in limited quantities – let's just say winemaking is not their primary occupation. Besides the wines that are sold at the bodega, the name is best known through a bottling of Manzanilla Fina by CVA (Compañia de Vinos del Atlántico).
The Manzanilla Torrebreva is a small-scale wine as well: housed in the bodega Don Alonso, the solera only has three criaderas. The wine is now refreshed with grapes from a relatively young vineyard in the pago Torrebreva.
The bottle we're reviewing today was part of the 9th Club Contubernio pack. A membership in this sherry club allows you to buy a selection of sherry wines three times a year, often including unique sacas like this one. It is a small selection of the best barrels from the solera, with an average age of around 4 years.
Manzanilla Torrebreva – Edición Especial Contubernio (15%, Infantes de Orleans y Borbón 2021, 1400 btl.)
Nose: nicely intense, with lemon curd, dried flowers (and chamomile), bruised apples and leafy notes. A noticeable sea breeze is running throughout, with a firm salinity and touches of ozone. Also almond skins, green olives and yeast. Really expressive.
Mouth: dry and fresh, with good acidity. A lot of brine and yeasty notes, just a hint of yellow apple and plenty of fresh citrus notes, including lemon peels. Then comes an increasing bitterness, really savoury and mineral. Bitter almonds, walnuts, tapenade and a hint of wood in the background. Dry finish, medium length.
Availability: this particular bottling was part of the Contubernio membership and can now be purchased seperately in the Contubernio shop for € 16.
Summary: Quite a serious, intense Manzanilla - it shows lots of salty notes and citrus. A really fresh bottling of a really good wine, from a small bodega that deserves more attention.