Manzanilla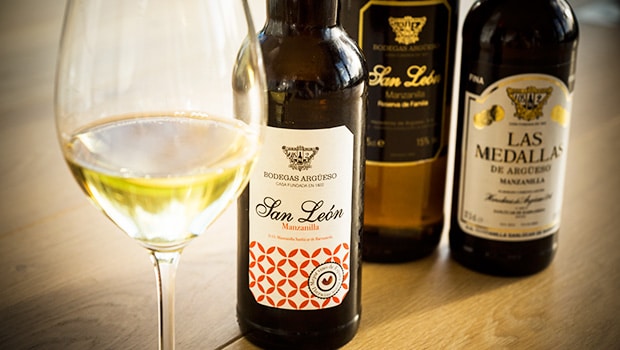 Published on December 10th, 2013 | by Ruben
0
San León (Argüeso)
Don León de Argüeso gave his name to the flagship Manzanilla from Bodegas Argüeso
San León (sometimes refered to as San León Clasica) is the flagship Manzanilla from Bodegas Argüeso. While the label still says it's "more than three years old", it's actually said to have matured for around six years. Only the San León Reserva de la Familia (black label) is older – nine to ten years, making it a Manzanilla Pasada.
San León was chosen as the best wine of Spain in the 2009 Iberwine contest.
San León Manzanilla (15%, Bodegas Argüeso)
Nose: definitely more mature than Las Medallas. More flor influence (freshly baked bread and hints of horse stables). Overall more yeasty. Zesty citrus. Almond notes. Even a hint of caramel. Classic Manzanilla.
Mouth: again more mature. Drier and further away from regular wine. Plenty of nutty notes (almonds, brazil nuts) as well as a slightly tangy hint of olive juice. Medium salinity, medium acidity too. A light hint of old wood in the finish.
Availability: pretty good, you'll probably find one or more stores in your country. Around € 12-15 for a full bottle or € 7 for a half bottle. Check Master of Malt for international shipping.
Summary: Very typical, balanced Manzanilla with plenty of flor notes and a wide array of flavours. Slightly more to my liking than Las Medallas. Overall this is authentic sherry, no wonder Argüeso is renowned for its Manzanilla.