Manzanilla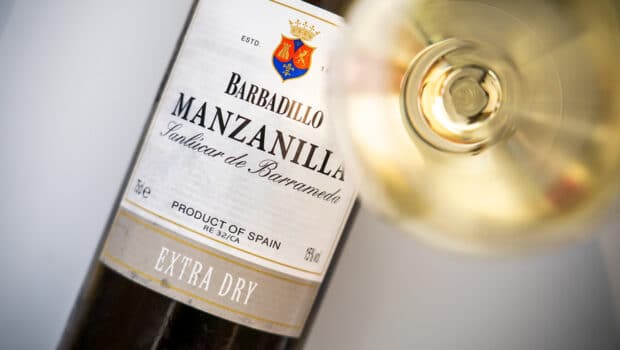 Published on August 4th, 2020 | by Ruben
0
Manzanilla Extra Dry (Barbadillo)
Supermarket sherry: great value for money if you get a fresh bottling
It doesn't hurt going back to the basics once in a while, so while visiting my local Carrefour I picked up this Manzanilla 'Extra Dry' from Bodegas Barbadillo. In terms of pricing it sits in between a Fino Solana (Bodegas Barón) and Domecq Fino (now Gonzalez Byass). That's pretty much the whole offering here in Belgium, still quite a sad situation really.
Barbadillo has at least two basic Manzanillas, this one in a dark brown bottle and another one in green glass, with the brand name Barbadillo separately in a white square. I'm still not sure whether they are the same wines with market-specific branding.
I only buy this when I find a recent bottling by the way. In this case the bottling code L-20157 refers to 5 July, less than two months ago.
Manzanilla 'Extra Dry' (15%, Barbadillo, L20)
Nose: medium intensity, with the typical markers like hay and sea breeze. An underlying hint of bruised and stewed apple. The yeasty flor is quite present here, showing chamomile and bitter almonds.
Mouth: a bit of youth at first, with green apple acidity and a slight fruitiness. Then becoming drier and fairly mineral, with hints of almonds and lemon zest, including a firm bitterness, yeasty dough and a hint of breadcrust.
Availability: just over € 5 at Carrefour in Belgium. Too cheap perhaps.
Summary: A good benchmark when looking at supermarket Manzanilla: compared to other wine regions this offers great value for money. A genuine every day drinker, or an introduction to the style of wine. That said, there is certainly better Manzanilla to be found, notably from the same bodega.